"By divine institution, the Sacrament of Orders establishes some
among the Christian faithful as sacred ministers through an indelible character which marks them. They are consecrated and designated, each according
to his grade, to nourish the people of God, fufilling in the person of Christ the Head the functions of teaching, sanctifying, and governing." (CIC, c. 1008).
I AM WITH YOU UNTIL THE END OF THE AGE
"Holy Orders is the Sacrament through which the mission entrusted by Christ to his apostles continues to be exercised in the Church until the end of time; thus, it is the Sacrament of apostolic ministry. It includes three degrees: episcopate, presbyterate and diaconate." (CCC, no. 1536; Cf. CIC, c. 1009 §1).
Each of these three degrees of Holy Orders are "conferred by the imposition of hands and the consecratory prayer which the liturgical books prescribe for the individual grades." (CIC, c. 1009 §2).
Do you and anyone you know might be interested about the priesthood or the diaconate?
Know that it is our common responsibility to raise awareness about vocations in the church: God calls each of us to holiness by a certain and particular way of life. In calling us to a particular vocation in life, God has in mind the living of our life fully.
Pray for vocations in the Church: lay, married, religious, and ordained.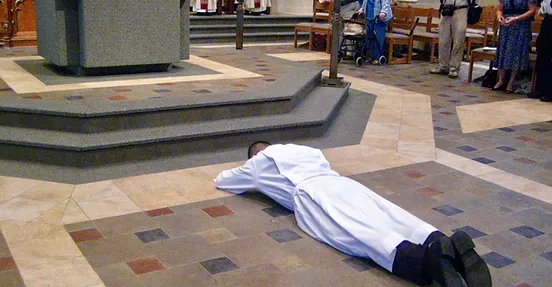 FOR INQUIRIES
Please call Fr. Edison or Deacon John
at 924-7111.